If you follow me on Instagram or know me on Facebook, you probably know that we were in Hawaii for eight days through Thursday of this past week.
This blog post is replacing two weeks worth of "Weekly Round-Up's" – for weeks 33 ending on Saturday, August 15th and week 34 ending on Saturday, August 22nd.  I write this blog for my children, but if you're interested in the "fun and crazy" we are up to on a weekly basis, here's the link to the Weekly Round-Up tab of my blog.
I posted Instagram photos with the hashtag #BSinHawaii, where the "BS" stands for the first initials of the two families that went together.  (Ours being "Buchanan" and then the other families last name starts with an "S.")  Feel free to look the hashtag up on Instagram to see what we were up to on a daily basis.
---
I took over six hundred photos while on this trip. That number includes photos from my Apple iPhone 6
, my small Canon PowerShot A2300
camera, and my GoPro HERO4
. All the underwater photos, and many of the beach photos were taken with the Go Pro. That camera and its' Accessories
was worth the price of it to have some of the precious memories of the kids playing in the clear water.  I tried my hardest to include only the best photos in this post, but if you really want to get a feel for our experience in a nutshell (just 22 photos,) go look up the #BSinHawaii hashtag on Instagram.
This week was amazing and it felt like it would never end too.
But, as with all good things, they come to an end sometime. <Insert big sigh.>
If it's any consolation, my children, husband and mother-in-law were all very happy to get back.
Me… not so much… but I did come back refreshed and ready to get back to reality.
We flew out of town on a Thursday and came back on a red-eye flight on a Thursday night/Friday morning.
It was my two youngest children first flights, and the oldest didn't remember when his last one was so it was sort-of like his first flight all over again.
Each one of them had their own carry-on suitcase to drag around with them, as well as at backpack filled with a travel pillow, things to do (such as small books to read and a book to keep them busy,) a pen, my daughter had crayons that everyone was supposed to share, and snacks like trail mix, beef jerky, M&M's and either gum or mints.  We also purchased headphones prior to the trip for everyone, although Delta charges for movies now.
It's a five-hour flight from San Francisco to the Kona Airport, and a four-hour and forty-five minute flight from Kona to LA in California.  The red-eye flight back wasn't as bad as I thought it was going to be, but the trip there was pretty difficult with three awake and antsy children who didn't have a TV to watch.
There's also a three-hour time difference between California to Hawaii, so even though my children usually go to sleep around 8 to 9 PM at home, it was actually 11 PM and midnight before they went to bed in Hawaii. This made the first night of sleep rough, but they got on schedule pretty quickly.
My oldest, my husband and I went fishing on the first full day (Friday), where we left the house at 6 AM to get to the fishing port by 7 AM.  We went on this trip with family who specifically told us that they didn't want their faces or names mentioned in any internet post, so I took that into consideration every time I posted something on Facebook or Instagram.
The view from the boat was spectacular, and even though it was clearly overcast most of the time in Hawaii, over the boat it was gloriously sunny and all-n-all, a beautiful day.
But the fishing… not so much.
We spent six-hours on the boat and didn't get even one bite.  It was tortuous. But it happens and that's why they call it fishing, not catching.
We drove straight from the port to Costco in Kona to get fresh fish (I think it was Ahi Tuna.)  We also purchased poke, which I found out I enjoyed that very much, especially considering I like almost any kind of sushi and sashimi.
We finished off the day cooking our Costco fish (our uncle is an exceptional cook,) the adults consuming large quantities of Mai Tai's and Pina Colada's, and swimming in the pool at the rental house.
On Saturday, the family piled into the rented mini-van and headed over to the local farmer's market.  We got there pretty early, and we were so glad too because the humidity was almost unbearable in the sun.
It was our first big day as a family unit and we hit the island's tourist offerings pretty hard.
At a friend's suggestion, we went to the Greenwell Coffee Farm for a tour in Captain Cook, HI.
It was fantastic.
They take the time to explain how the coffee bean goes from plant to your cup, and we were truly in awe at the length of time it takes for a coffee bean to become a useable substance that powers my husband and I throughout the day.
At least we know why good coffee is so expensive!
The last tourist thing we did on Saturday was go to the Amy Greenwell Ethnobotanical Garden. This wasn't on our original list of things to do, but was recommended by a vendor at the Farmer's Market in the morning.  It was right down the street from the coffee farm, so after a pizza lunch in Captain Cook, we headed for the 1 PM tour in the garden.
The children loved learning about the plants.  The guide was a kind man who pulled flowers off of plants for us to smell them, told us Hawaiian fokelore of various plant-life and described the different plants that were in the garden, including evasive species and local, native plants.
I remember smelling a Noni fruit, looking at two different types of flowers that have half of the petals on each of them (and it had a wonderful story of the two representations of people,) and smelling a tree bark that smelled sweet, almost coffee like, but wasn't at all a coffee plant.
Saturday evening we watched the sunset at the Kua Bay Beach.  That beach has some of the most powder-like sand we found in Hawaii. We took epic sunset photos there, even though it was overcast.
On Sunday, we hit the Kona Shopping strip pretty hard, including shopping at a local farmers market in town and we just so happened to be there when they closed down Ai'i Street for street vendors.  It was pretty cool.
One confession is that we purchased Donkey Balls from the Donkey Balls chocolate factory.  They were peanut butter – chocolate malt-ball flavored without the macadamia nuts.
One of the hardest things to get used to in Hawaii is the laid back attitude.  They actually call it "Hawaiian time" but when you're from California, if you're late even a couple minutes, it's usually considered rude and frowned upon.  The shops in many of these places had opened signs with "be back in Hawaiian time" on them, and really that meant that you had no idea when the shop employee/owner was coming back that day.
The oldest didn't want to enjoy the sunset this time (we all saw it as a family on Saturday evening.)
It's a difficult thing to describe how beautiful the sunset is in Hawaii.
There were many evenings when we didn't get to see it due to rain (or what we thought was a torrential downpour.)
This is a precious photo to me. My husband is a patient father and he enjoys the simple things such as I, including a sunset in Hawaii.  Also, we didn't know if we were going to get another chance to see a sunset due to strange weather conditions in the evenings.
On Monday, we headed to the volcano on the big island we stayed on.  We packed some snacks, water, and left the house around 7 AM to check out the black sand beach.
It was the Punalu'u Black Sand Beach Park to be exact.  They have a reputation to have sea turtles come to the beach and even though we saw them in the water, they didn't get close enough to get a good picture.  It was an experience that we won't soon forget though, as I know I've never seen a black sand beach in my life, until now.
We had a great time checking out the Kilauea Visitor Center at the Hawaii Volcanoes National Park.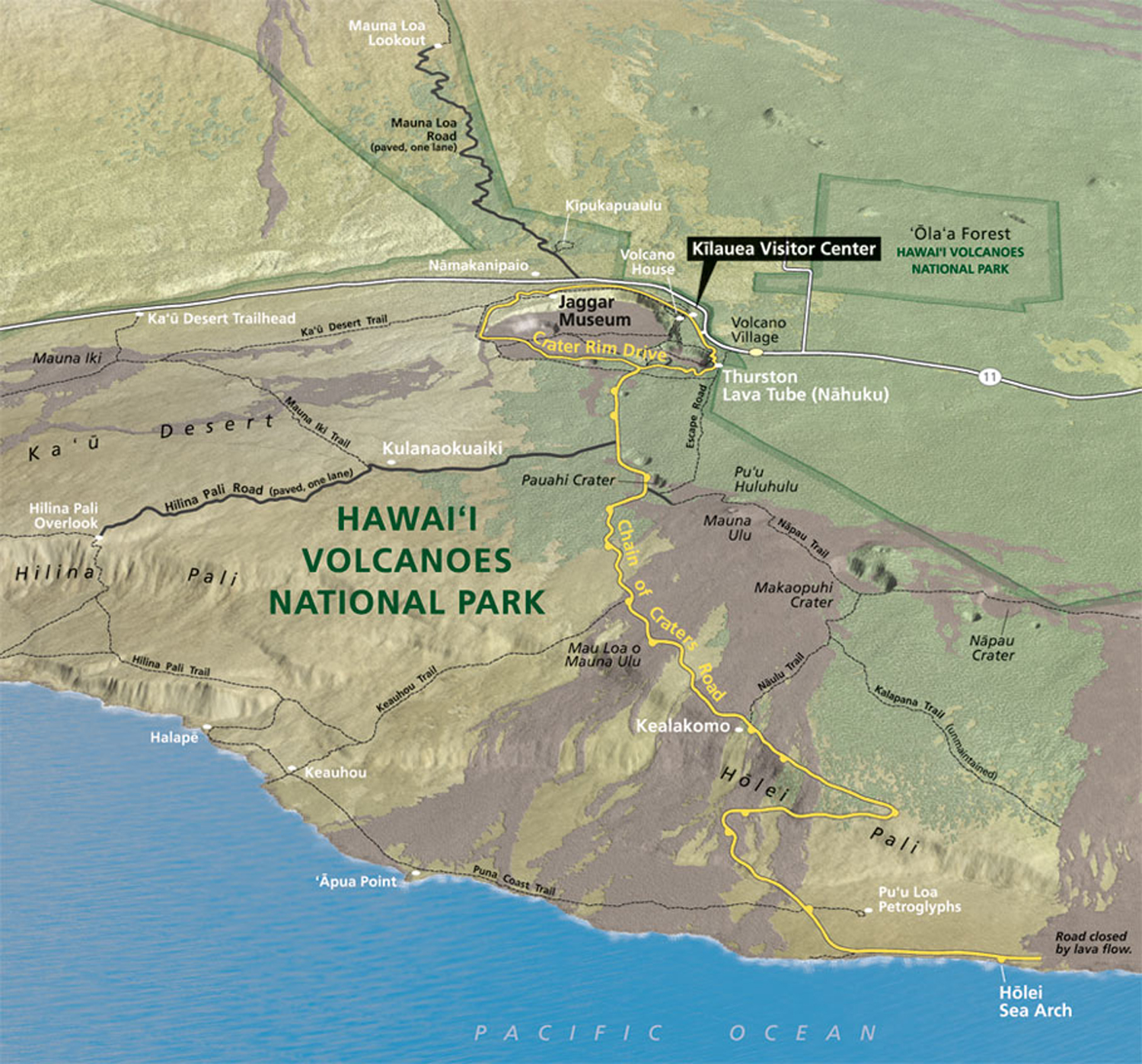 We took a drive around Crater Rim Drive and stopped at the Jagger Museum, the steam vents, the Volcano House and the Thurston Lava Tube.
Everything was open and was worth the two-hour drive from Kona.
The views were exceptional, and because it was overcast, there was an orange glow in the clouds above the opening of Mt. Kilauea.
My children really wanted to see the lava, and we tried to explain to them that the lava wasn't visible from where we were standing or where we were going.
They enjoyed the walk through the Thurston Lava Tube and they also got a huge kick out of feeling the hot steam come out of the steam vents.  Those are obviously tangible things to help my youngest not only "see"  a volcano, but actually experience it.
And this all occurred within one day.
I didn't even mention the cool place we ate at in Volcano, HI (actual town) and how we drove back through a cloud and a torrential downpour.
That was all very exciting.
We ended Monday with a swim and some adult beverages for the adults.
Tuesday, we took family photos on the Old Airport Beach in Kona.
This is what I worked so hard for the past four months of trying to lose weight.
It was for this photo.  Of course the other side effects of getting healthy and all that were the uber-bonus, but I really was working toward these photos.
And I look fantastic if I say so myself.
This is something I recommend to anyone going to Hawaii, especially on the Big Island.
Get your professional photos done by David O. Baldwin Photography.
You will not be disappointed and all I can say is that it was worth every penny I paid.  He was a terrific man to work with and I was more than pleased with the hundred and sixty photos he took and released.
If you read this post David, thank you for the beautiful work.
The rest of the day was relaxing on the La'Aloa Beach.
This beach is also called the "Magic Sands" or "White Sands" beach, because supposedly the sand disappears.  That never happened while were were there or while we drove by it so I didn't get a picture of that event.
The waves are powerful and my oldest lost his goggles to the crashing waves today.  My husband almost lost his favorite "swimming hat" or so he calls it, but that floated on the surface of the water so it was retrieved by a lovely swimmer.
We worked on our tans today by applying 50 SPF sunscreen every two hours or so, and thankfully only my husband was only a tiny bit sunburned.
That evening we went to our first luau, and it became a torrential downpour in the last 15-minutes.  I could have stayed and watched the entire thing as the dancers kept dancing in the rain, but the kiddos were exhausted and didn't want to sit in the rain, even with the poncho's that were handed out to all the guests.  It was a fantastic show at the Marriott, known as the Island Breeze Lu'au.
On Wednesday, we drove a mile down the road to a shallow reef in the Kahaluu Bay.
Our family members snorkeled, while my children and I used our goggles to look at the fish and the sea turtle up close.
As I have never done anything like this, I left with the feeling that I could do this all day.  Next time we go to Hawaii (and that trip is being planned with our friends,) I know what I'll be doing on most days if I can – swimming in a reef/shallow area looking at the sea life.  Now I know what all the buzz is about.
But alas, we had to feed our children and ourselves.
We stopped swimming around 10 AM and headed up the hill to Waimea, to go to a restaurant called Merriman's.  It was about an hour drive from our house, and I don't think I've ever had a more delicious salad than I had there.
This is my photo of the Spiced Roasted Pumpkin, Hibara Farm Greens, Hamakua Mushroom Salad and Mushroom Soup combo.
It was the most beautiful and delicious salad I have ever had in my entire life. The soup was also delicious but I can't say enough about the salad.
I hope you take the time to drive to this restaurant if you're on the Big Island.  You won't be disappointed.
In the evening my mother-in-law took care of all the kiddos and the adults went out for drinks (pia) to a local place called Bongo's.  It surprisingly closed at 10 PM, so we were only there for an hour but it had a good calamari steak and I highly recommend the no-bone hot wings appetizer (pupu's!)
We woke up at 530 AM Hawaii time on Thursday (including all the kids) to get to a specific beach around sunrise.
My husband officiated a low-key vow renewal for our aunt and uncle on the Kukio Beach.
Our family is relatively small, and this trip was a big deal for us all.  Our aunt and uncle made sacrifices to do this trip, in order to celebrate their 10-year anniversary, our aunt's graduation, she also turns 50 this year and my mother-in-law beat cancer.
All that and it's only August.
Because we woke up so early, I forgot to pack snacks for my children.  I made sure they got fed before we left the house, but we didn't have snacks around 10 AM when my kiddos get hungry.
But that didn't stop us from enjoying a beautiful morning swimming with fish including puffer fish, which I hadn't seen since my Mexico trips.  It was very cool.  There is this large rock in the swimming area that you can actually swim through.  Although I didn't swim through it, I did take a photo of the opening underwater.
When we got home from the Kukio Beach (about a 30-minute drive from our house in Kona,) we ate a chicken nugget lunch with the kiddos and all took a nap.
I packed first, because, you know I'm the mama – and when I laid down with my youngest for what was supposed to be a few minutes, ended up taking an hour-long nap.  I'm so glad too!
We left the house around 630 PM to get to the Kona Airport for our 9 PM red-eye flight. Most of Friday morning was spent traveling, and we got to our house after a three-hour layover in LA around 11 AM.
Everyone was so glad to be home and I think my children missed Netflix the most.  The dogs probably second.
My oldest slept off and on throughout the day, and then slept almost 12-hours on Friday night.
All-said-and-done, I don't remember much about Friday evening.
Saturday came around and my husband planned a trip to take the Jeep out with the guys.  It ended up overheating before they got to far (thankfully,) and he towed it to a shop in town to get it fixed.
We planned a dinner and a swim with some friends of ours, and that kept the kids busy and they got some exercise.
I'm looking forward to starting the week, and I hope I can get back into a routine soon.  I'm already off Hawaiian time, and got up pretty early on Saturday to unpack and tackle laundry.
It's coming together….
Mahalo ~ Thank you!


My children and I wear clothing from oldnavy.com
& Kohl's
.